MINISTRIES
•PUBLIC MINISTRIES | •SCHOOLS | •FELLOWSHIP MINISTRIES | •ALL OTHER MINISTRIES
The Blind Munchies Coffeehouse
We are a volunteer-run, non-profit/donation-based coffeehouse near the UW-Stout campus. We serve up our signature locally roasted dark coffee, gourmet espresso and drinks, Bakery and snacks, along with live music during the school year. All proceeds are given in support of local and overseas missions.
Burning Dog Radio 101.7fm
We play a variety of indie music from all over the country and world. Yes, we do play Christian music, but not the stuff with the cheesy gaggy feel of most mainstream Christian radio. No "positive hits" or "holy alternative" here. It's the only college station in Menomonie. We play the best of the known and the unknown indie music out there.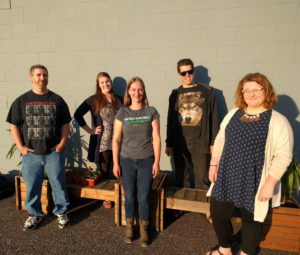 Word on the Street Magazine
Word on the Street magazine is a relevant student magazine published twice per semester for and by Street Level Ministries at UW-Stout. WOTS, (the magazine's nickname), covers a wide range of topics such as music and movie reviews, true student bios, how to have a relationship with God in college, Stout events, and barnyard wisdom from our very own "Nick the Hick". You can interact with the magazine on our website where you'll find articles, polls, photography and maps to locations reviewed in the magazine. Pick up your free issue of WOTS at any of the racks located in most campus buildings and dig in!
SCHOOL OF BELIEVERS
Teacher: Pastor Jason Gilbert
This ongoing class is to help new or young believers to get their footing on fundamental elements of Christianity. The purpose is to prepare it's students for a regular service position in the church and ultimately help them get on track with their personal discipleship to fulfill the plan that God has placed in their lives. Class runs one year beginning in September. Applications are available in the Church lobby.
The school:
• Meets every week for a lecture-style class that includes: homework, books, audio lessons and more.
• Requires regular attendance in church services and a fellowship ministry.
This class requires and application to get in. Applications are available year-round and an appointment made with Pastor Jason to discuss your application. The class meets Sunday mornings in the Church Gathering Room. If you are interested, please speak with your fellowship ministry leader. Brochures are available as well.
SCHOOL OF DISCIPLESHIP
Teacher: Pastor Tom Karl
This school is for those who are actively serving the Lord in our fellowship community and have committed to regular attendance to church services and activities with a desire to see what future God has designed for them. The purpose of this class is to train up solid servants and ministry assistants for the church. It is training for a life of discipleship.
The school:
• Meets every week for a lecture-style class that includes: homework, books, audio lessons and more.
• Requires Covenant Membership at JFB and a regular weekly service position within our Church
• Offers the opportunity to get on track with God's call for your life.
This class requires and application to get in. Applications are available year-round but, depending on the circumstances, may require completion of the School of Believers first before acceptance. The class meets Sunday mornings in the Coffeehouse. If you are interested, please speak with your fellowship ministry leader. Brochures are available as well.
SCHOOL OF MINISTRY
Teacher: Pastor Tim Dodson
This is a 3-year training program for disciples who are "called" to higher ministry. The training is hands-on and requires a life beyond that of the average Christian. It is a school designed to "make you or break you".
This School has a two part approach:
1- Attendance in weekly lecture-based classes
2- Participation in Application-based church roles where leading and teaching can be experienced
Prerequisites:
Regular attendance at church services
Weekly service in the church
Calling of God
This school is not "open enrollment" as you might find with seminary. Applications are available every spring and classes begin in September. If you are looking for more information, talk to your fellowship ministry leader first.
STREET LEVEL MINISTRIES
A Ministry for College-age
Street Level is not a church. We are a group of people who want to know God and be used by Him in a big way. Our goal is to help students learn how to practically pursue God by teaching what He says in the bible, helping students find the right church, and equipping them to find God's purpose for their lives. We host bible studies in our Ministry House, concerts at The Blind Munchies Coffeehouse, a fall Block Party at our house, produce a quarterly magazine, and provide great programming through Burning Dog Radio 101.7fm. There are many more things we do, just check out our site. If you have questions, talk to Ben and Sasha Morrison.
Email us: streetlevel@jfbelievers.com
KINDRED ADULTS MINISTRY
A Ministry for Adult Singles
The Kindred Ministry is a community of single adult men and women seeking to learn about God together, serve one another in love, and establish life long friendships.
We usually meet Sunday afternoons at following church services at JFBelievers and lunch at the Blind Munchies Coffeehouse. We invite you to join us. Our activities vary from week to week, so give us a call at 715-235-4977.
Email us at kindred@jfbelievers.com to find out more information about our activities. We look forward to hearing from you! If you would like to know more, talk to Pastor Jason and Faye Gilbert.
---
ONELIFE MINISTRY
A Ministry for Young Couples and Young Families
The OneLife Ministry is a fellowship group that is active in our church, in our neighborhoods, and in our community. OneLife Ministry is "missional through fellowship". This means we are intentional about hanging out together while seeking to live lives that represent Jesus and our church well. Our desire is to see God at work in our neighborhoods and in our neighbor's lives.
Email us: onelife@jfbelievers.com
All of our monthly events are listed in the church calendar each month in the JFB Newsletter. For more info about our ministry, talk to Pastor Tom and Becky Karl.
---
GNOSKO MINISTRY
A Ministry for Seasoned Couples and Families
Gnosko Ministry is a group of families and couples in a later season of life who desire to be godly examples to those who are younger or newer to the faith. We meet on Sundays at 2pm for various types of gatherings like fellowships, group studies and more. Our group has hosted domestic and overseas missions trips as well as fun local events to meet people in our community.
Email us: gnosko@jfbelievers.com
If you have questions, talk to Bryan and Laura Harnisch
CREATIVE AND SERVICE MINISTRIES
• Creative Team - A group of graphic designers, photographers, writers and video artists.
• The Sound Team- Work hard to make every service sound great.
• Nehemiah Ministry - Serve to keep up the buildings/properties if JFB. They meet Tuesday Nights
• Books and Digital Resources - The place to get great study resources. We're at the JFB Central Desk.
• The Cleaning Ministry - A group of servants who faithfully keep our church ship-shape.
• Tech Ministry - A team of people who tend to the ever-growing technical needs of the church
• Video Ministry - Oversee video needs in Menomonie and Philippines
• Audio Ministry - Oversee audio needs in Menomonie
ADDITIONAL MINISTRIES
CHILDREN:
• Toddler Ministry - during our services - 0 to 4 years old
• Kid's Church - during our services - 5 years old to 4th grade
ADDICTIONS & CORRECTIONS:
• Restoration Ministry - Mentoring for anyone dealing with bondage sins.
• Dunn County Jail Ministry - Weekly Sunday services in the jail at 1:00 pm